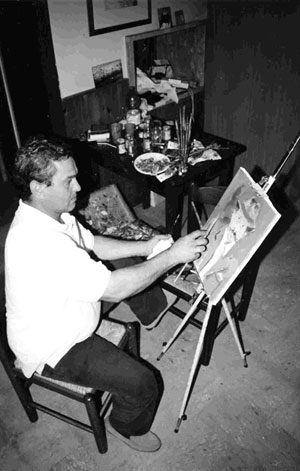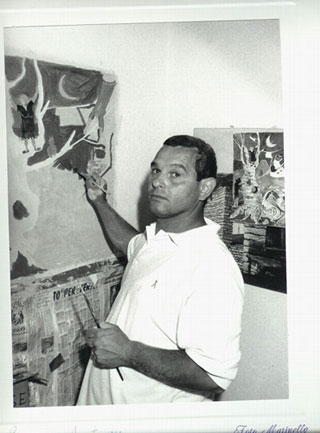 Luigi Rossetto working about the " Anguane"- il MUSEO ETNOGRAFICO - GIAZZA (VR)- Photo by MARINELLO

"a long journey through the Art, me autodidact"
IT IS THE BETTER THING I LIKE TO DO, TO PAINT, SINCE I WAS A LITTLE CHILDREN I STARTED TO HAVE FAMILIARITY WITH ALL I WAS HAVING AROUND, TO BE FREE TO EXPRESS AND DRAW EVEN THINGS THE MOST INGENUES, THAT I WAS LIKING, TO CREATE, COPY,EVEN EXPRESS MYSELF WITHOUT SENSE, .WITHOUT KNOW WHAT, WHERE , HOW AND WHY, YES IT WAS BEEN AND IT IS STILL NOW AN ENDLESS JOURNEY, I HAVE KNOWN SO MANY THINGS, AND A LOT OF PEOPLE WHO APPRECIATE MY WORKS AND MY HUMAN CREATIVITY, BY FREQUENT VARIOUS SCHOOL (EVENING) WITH MASTER LIKE VICO CALABRO' - MIRALDO BEGHINI - ELIOS LESCRIPA .

I HAVE LEARN MANY BASIC, FUNDAMENTAL THINGS: THE PENCIL, THE DISTEMPER, THE OIL, THE PASTEL, THE CHALK,THE CHINA. THE PAINT IN WATERCOLOUR IS THE TECNIQUE THAT I MOST LIKE AND NOBODY HAS TEACHED IT TO ME. TEN YEARS AGO I HAVE FREQUENTED SOME FRESCO COURSES IN CALDOGNO (VI) AT THE WORKROOM OF VICO CALABRO' WHERE THERE WAS MANY PAINTERS, ALSO FOREIGNS, NOW THE FRESCO AND THE WATERCOLOUR ARE THE TWO TECHNIQUES THAT i WORK MOST, IN DURLO OF CRESPADORO (VI) WHERE I HAVE A SMALL ART GALLERY WHERE I CAN TO SHOW MY WORKS. THE ART GIVE ME A LOT IN MY LIFE. IN MY VALLEY CHIAMPO VALLEY, I REALIZE 30 FRESCO PAINTS, ALSO IN LARGE DIMENSIOS: (3 WORKS OF 10 m2 ). I HAVE BEGUN TO SHOW MY WORKS WHEN I WAS 15 YEARS OLD ,AND UNTIL TODAY 2005 I HAVE DONE (38°) PERSONALS, A LOT OF MY WORKS CAN BE FOUND IN PRIVATE AND PUBLIC COLLECTIONS,IN ITALIA ANDI N MANY COUNTRIES:BELGIUM, FRANCE,GERMANY,
BRASIL,SWIZTERLAND,AND ABOVE ALL IN THE UNITES STATES OF AMERICA
Rossetto Luigi painter
ARTIST'S WORKROOM "LA RINDOLA"
Street Rancani,69 DURLO di CRESPADORO (VI)
I live and working ARZIGNANO (VI) Street PO, 53\1

tel 335 8367709 fax 0444.676690
WORK IN: WATERCOLOUR, FRESCO,OIL, CHALK,PASTEL
e mail :rossettoluigi@libero.it rossettopittore@gmail.com



Biography:
The painter Luigi Rossetto born in 1958 in San Bonifacio (VR) ITALY. Since he was children he paint and draw. He obtain the first results after the compulsory education. He attend evening courses, under teachers like: VICO CALABRO' ,MIRALDO BEGHINI ELIOS LESCRIPA E LUIGI CALLIGARO. Painter post-impressionist, he teach for some years in this evening schools: SCUOLA MEDIA STATALE "ANTONIO GIURIOLO" AD ARZIGNANO E AL "CENTRO CULTURALE DI MOLINO" A MOLINO DI ALTISSIMO (VI).
He work with various techniques: watercolour, fresco, oil, chalk, pastel, tempera, China and engraving.
Many Rossetto's works can be found in public and private collections, in Italy and in various countries, like:GERMANY,FRANCE,BELGIUM,AUSTRIA,CANADA.
ARGENTINA,BRASIL, and above all in the Unites States of Amerika (USA). He start to exhibit in collectives and personals art exhibition in 1975.
On 2006 he will introduce three new personal exhibitions.
Till today (2005) he has introduced 38 personals: BRAIES (BZ) - LONIGO (VI) - ARZIGNANO (VI) - GIAZZA di Selva di Progno (vr) - CAMPO TURES (BZ) - LEVICO TERME (TN) - CORNIGLIA Vernazza (sp) - DURLO di CRESPADORO (VI) – Tezze di Arzignano - Vicenza \\ some more important collective :MILANO award "ARTE 92" Mondadori (awarded) - MAPELLO (BG) awarded - 2\A BIENNALE TRIVENETA Arzignano (admitted).Works in :watercolour - fresco - oil - pastel - chalk - draw\china.Had written about him :SALVATORE MAUGERI - GERARDO COSSIO - GIULIANO MENATO -PIER ANTONIO TRATTENERO - MARIA LUISA MAURER - MAX PAGGIN - FRANCESCO VEZZARO - FERNANDO ZAMPIVA - PIERA PASQUALE - BENITO PICELLI - SEVERINO CHIARELLO MONFORTE - FEDERICO BELLOMI - PIETRO PIAZZOLLA - VITTORIANO NORI - GIANNI LONGHETTO - FULVIO CASTELLANI - dott. MARIO TIBALDO - TIBERIO AZZOLINI - GIOVANNI FRACASSO - FULVIA ZINI - DANIELE CONCATO - CARLO CAPORAL - G. RAMA - MATTEO PIEROPAN – BEPI DE MARZI.
Some journals, magazines and catalogues that have shown interest in ROSSETTO: (CAT 1988) - L'ELITE (VA) 1991\94 - URSINI ED - LA PLEIADE MI - TOP ARTS - GUIDA ARTENOVA - LA REPUBLICA - IL SECOLO XIX GE -DOLOMITEN - L'ARENA - IL GIORNALE DI VICENZA -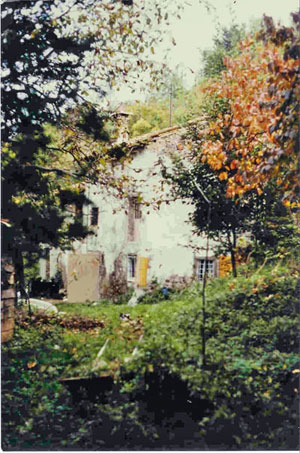 My house when i was children - It was my artist's workroom - LOcality " Calvarina" di Arzignano (VI)